Outsourcing in the wholesale trade industry is a trend that will continue to grow. If you're in the wholesale trade industry and exploring your options with outsourcing roles to the Philippines, here's what you need to know…
"Be prepared." As far as mottos go, it's one that the wholesale trade industry would do well to adopt right now.
It's easy to be lulled into a sense of security. After all, 2018 was a bumper year for the sector. In the US, for instance, wholesale distribution in total reached a record-high $6.01 trillion, up 7.5% from 2017.1 But nothing lasts forever. The National Association of Wholesale Distributors has a warning for its members: "Distributors need to be very cautious in their sales-growth expectations for 2019; it will not be a repeat of 2018."
The industry body is advising a cautious approach to the period ahead. They point out that growth is slowing – affected by factors such as trade tariffs, a drop in retail sales, wage rises, and higher shipping costs – and will continue to do so into 2020, in tandem with the slowdown in the general economy.
Book a Free Consultation
Interested in recruiting wholesale trade staff in the Philippines?
So, how will you prepare your business to weather the challenges ahead? There will be a raft of measures that you'll need to take with regard to supply chains, inventory, warehousing and transport, and, of course, staffing.
Keeping costs under control will be extremely important, because margins will be tighter. At the same time, you'll need to ensure that your marketing and customer service are more effective than ever, because you'll still have stock to move, and you'll be trying to do that in a slower market.
Outsourcing in the retail industry gives you the opportunity to successfully manage both in a less than ideal set of circumstances.
How? Historically, offshoring gives you access to labor at a much reduced cost. That's a given. But as technology permeates every facet of industry, it presents opportunities – both to more easily integrate remote teams into day-to-day operations, and also to increase the level of expertise in roles not traditionally part of your core business, but increasingly imperative to your survival.
Why is the wholesale trade industry suited to offshoring?
Fortunately for wholesale trade businesses, it's an industry that's particularly well suited to offshoring, because:
The industry increasingly requires skills in data management, IT support, and omnichannel platform development and maintenance – areas that are particularly well catered for by offshore BPO companies, who are able to draw from an existing, large pool of highly educated, qualified candidates looking for precisely that kind of work. (That's in addition to traditional business processes like document management, finance, and so on.)
Most of your processes utilize cloud-based software that can be accessed from anywhere in the world. Again, offshore providers (the good ones at least) have the infrastructure set-up, and comprehensive cybersecurity and privacy protections in place, enabling them to safely and efficiently work remotely with your company-specific systems.
A lot of the work can be done at any time – not just in business hours (although a good provider will give you access to people who can work your hours if you want). In fact, offshoring enhances your ability to provide out-of-hours service, so you can be available for customers when they want you to be, in any timezone.
Frequently offshored wholesale trade roles
Some of the more frequently outsourced retail industry roles include:
B2B (Business to Business) Sales Representative/ Consultant
Trade Marketing Specialist
Account Manager
Sales Manager
Customer Care/ Client Services Spec
Wholesale/ Trade Coordinator.
Sample wholesale trade employee profiles
At MicroSourcing, we have more than 7,000 wholesale trade specialists in our candidate database, and access to more than an additional 12,000 across the Philippines. Here are a few examples of real candidate profiles:
SKILLS
Troubleshooting phone issues affecting customer's service and configuration
Can handle complex technical and billing concerns
Account management
Commercial sales and procurement
RECENT ROLES
B2B Coordinator
Procurement and Order Fulfillment Specialist
Specialist Reporting/Operations Analyst
SKILLS
QA/CSAT reporting
Good skills with MS Excel, PIVOT, Word and PowerPoint
Quality Lite Track trained
Retention strategies knowledge
Customer service background
Understanding of sales retention
RECENT ROLES
Customer Service Representative
Technical Support Representative
Customer Retention Specialist
MicroSourcing clients by industry
MicroSourcing has built a close affinity with the wholesale trade industry as one of the sectors enjoying and mastering the benefits of offshoring. With over 75 wholesale trade professionals currently working for clients in Australia, the Americas and across Europe, we have significant experience in this industry.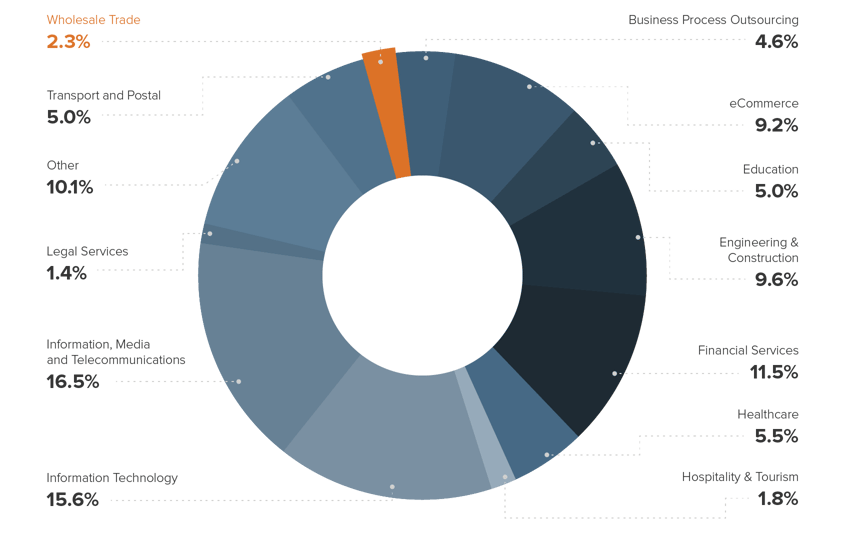 Interested in recruiting team(s) in the Philippines?
Since our inception in 2006, MicroSourcing has become one of the biggest providers of offshoring solutions in the Philippines. We can help you build a dedicated team in the Philippines, regardless of the roles and level of specialization you require. MicroSourcing is 100% owned by the Probe CX, one of Australia's fastest growing offshoring solution and customer engagement firms. So, it's safe to say we're experts in outsourcing to the Philippines.
Call +1 888-731-0023 today or send us an email to discuss your company's offshoring needs.